David N. Jackson, MD
High Risk Pregnancy Center, Hera Women's Health (Las Vegas and Reno, Nevada USA)
---
Posting Dates: Jul 31, 2023 - Aug 14, 2023
22-year-old primigravid woman had her first prenatal ultrasound at 27 weeks. The following findings were identified.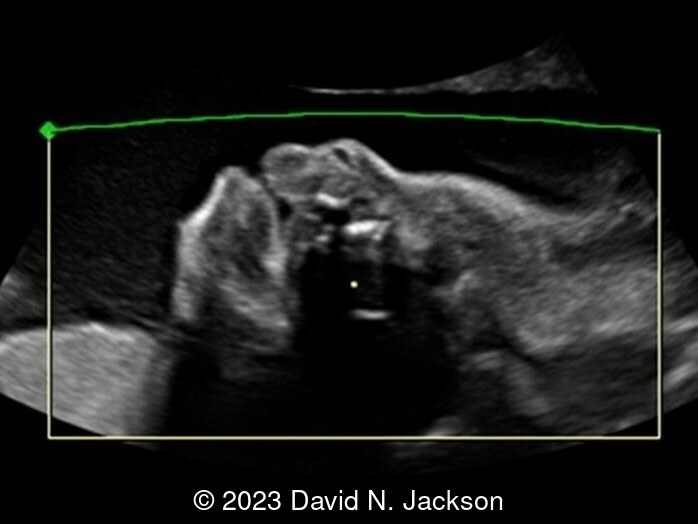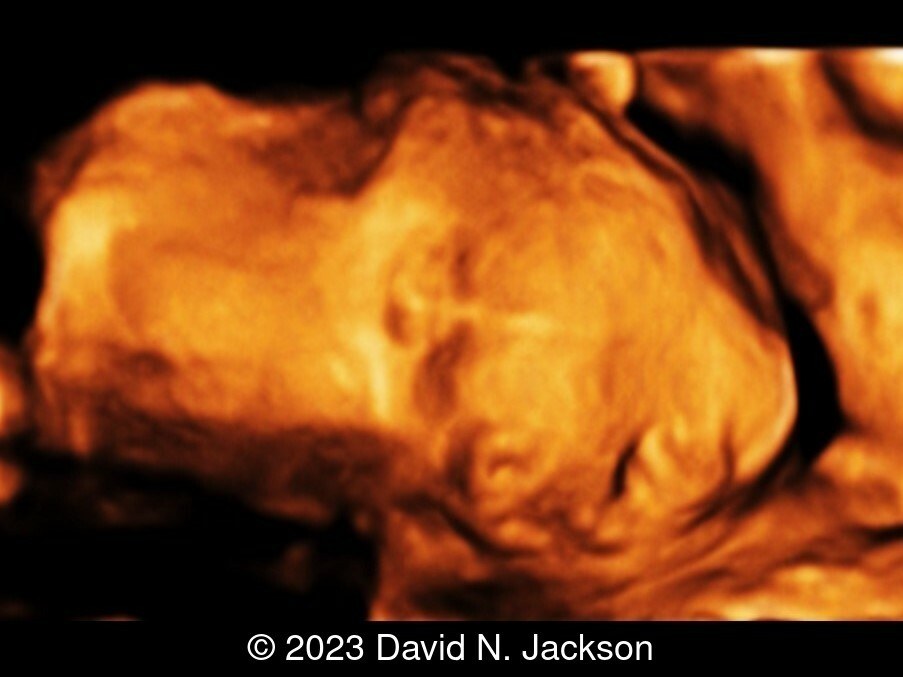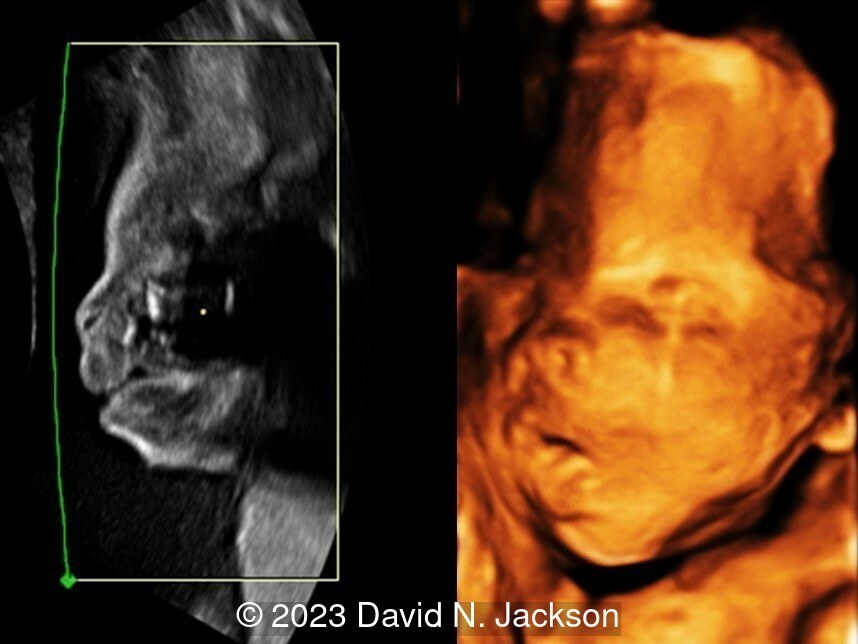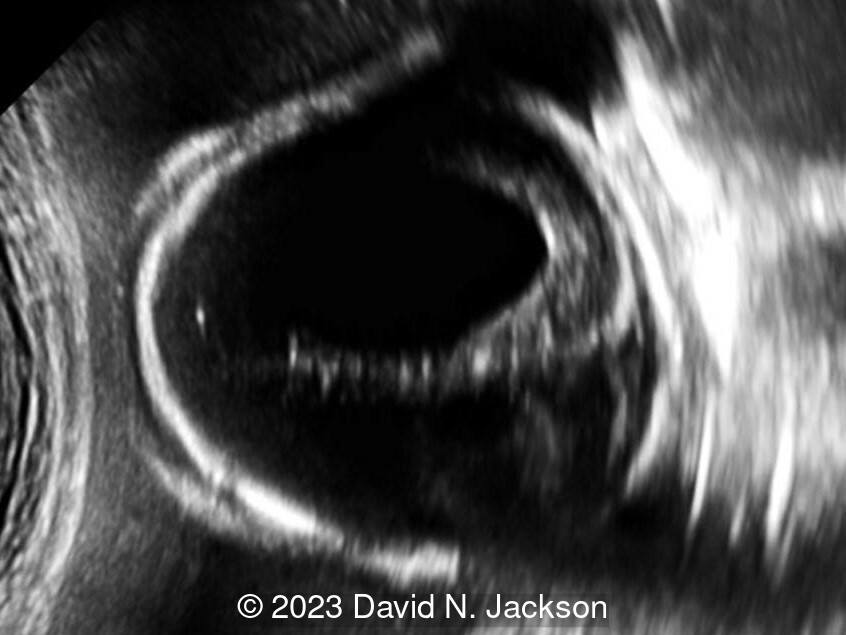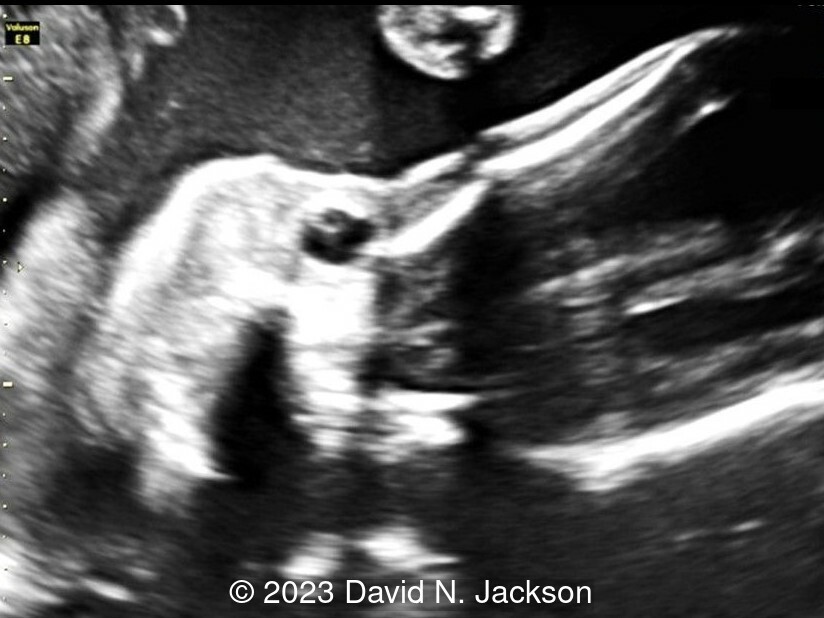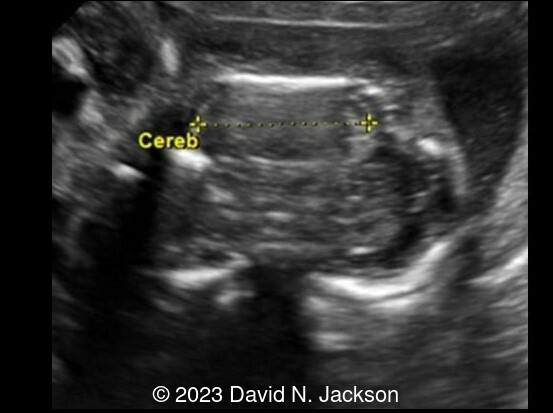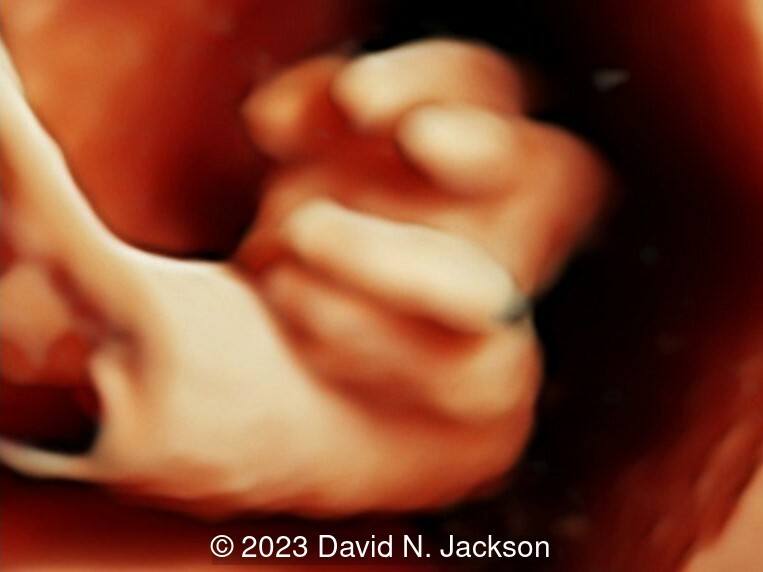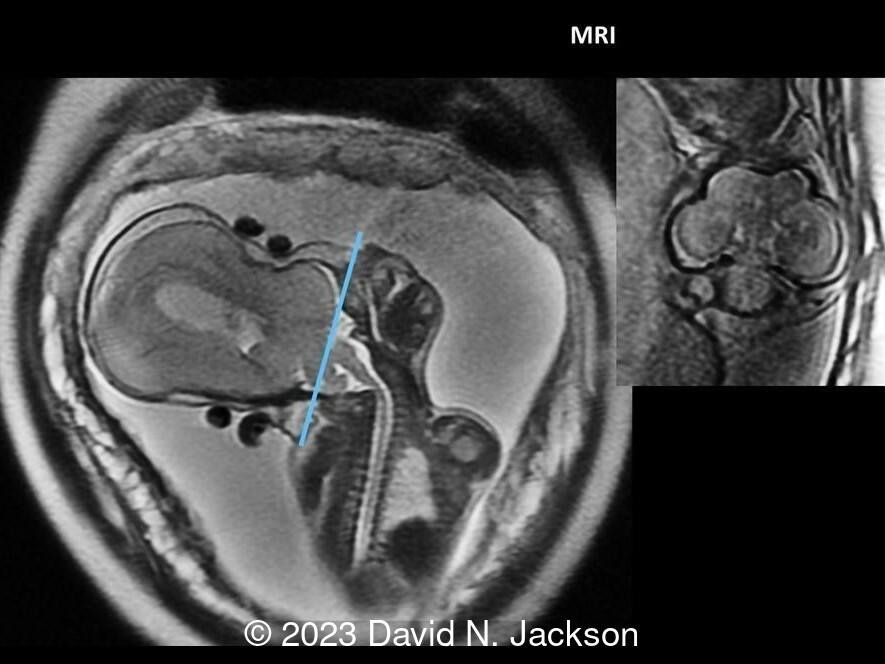 View the Answer Hide the Answer
Answer
We present a case of Kleeblattschädel deformity associated with a novel deletion involving the Sonic Hedgehog (SHH) gene.
Prenatal ultrasound images revealed a cranial skull abnormality with a cloverleaf appearance (Image 1). In addition, there was hydrocephalus, hand, and foot posturing, a 2-vessel umbilical cord, a small fetal chest, and polyhydramnios. Whole genome SNP microarray demonstrated a female with a pathogenic deletion (365 KB interstitial deletion of 7q36.3 (155,577,274-155,942,186)), the proximal portion of which involves the SHH gene.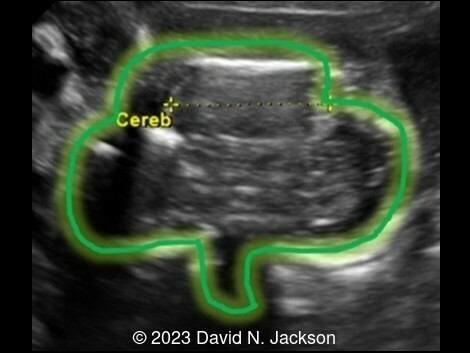 Discussion
Craniosynostosis has an overall incidence of 1 in 2,100 to 1 in 2,500 live births. The cloverleaf shape results from intrauterine premature closure of the sagittal, coronal, and lambdoid sutures. Multi-suture craniosynostosis constitutes approximately 5% of all craniosynostosis cases [1].  Kleeblattschädel syndrome, or deformity, is a rare craniosynostosis with towering and bossing of the forehead, temporal bulging, and a flat posterior skull. This causes the cranial contents to bulge, giving rise to the characteristic trilobate (cloverleaf) shape [1]. It was first described in 1960 by Holtermueller and Wiedemann with the publication of 13 cases [2]. The name is derived from the German words "klee" (clover), "blatt" (leaf) and "schädel" (skull).
Kleeblattschädel deformity has been estimated to be present in approximately 40% of patients with type II thanatophoric dysplasia [3,4], 15% of patients with Pfeiffer syndrome [5], 7% with Crouzon syndrome [6], 4% with Apert syndrome [7], and 2% with Carpenter syndrome. In 20% of cases, the finding is isolated or associated with other syndromes [1].
Braham et al present the first prenatal diagnosis of Kleeblattschädel deformity in 1979 [8]. Later, Stamm et al present 4 prenatally diagnosed cases [3]. Hydrocephalus and an increased biparietal diameter are common findings on antenatal ultrasound. The deformity has been confused for an encephalocele [3].
Defects in fibroblast growth factor (FGF) genes are the most common genetic mutations implicated in craniosynostosis syndromes. Fibroblast growth factor functions to regulate cell proliferation, differentiation and migration. Mutations in FGF1, FGF2, FGF3 have been found in Pfeiffer, Apert [7], Crouzon [6], and thanatophoric dysplasia [9]. FGFR3 is part of the tyrosine kinase receptor family and mutations cause the FGFR3 protein to be overly active, resulting in the severe disturbances in bone growth that are characteristic of thanatophoric dysplasia [10].
In our case, a novel mutation in the SHH gene was found. SHH is an important regulator of central nervous system development. The haploinsufficiency of SHH in human central nervous system development is associated with holoprosencephaly development, characterized by the incomplete separation of left and right cerebral hemispheres and various midline facial defects [10].
Kleeblattschädel skull leads to several neurological sequelae including hydrocephalus, hindbrain herniation, and venous hypertension [1]. The vast majority of patients surviving with this deformity have intellectual impairment. Treatment involves staged neurosurgeries to correct the skull shape, relieve the intracranial pressure and prevent brain damage. Some patients require additional procedures for facial reconstruction, eye protection, and ear correction. Some patients with isolated Kleeblattschädel deformity have shown good neurophysiological development and negligible residual deformity after surgery [9].
References
[1] Tubbs RS, Sharma A, Griessenauer C, et al. Kleeblattschädel skull: a review of its history, diagnosis, associations, and treatment. Childs Nerv Syst. 2013 May;29(5):745-8.
[2] Holtermueller K, Wiedemann HR Kleeblattschadel syndrome. Munch Med Wochenschr 14:439, 1960
[3] Stamm ER, Pretorius DH, Rumack CM, et al. Kleeblattschadel anomaly. In utero sonographic appearance. J Ultrasound Med. 1987 Jun;6(6):319-24.
[4] Mahony BS, Filly RA, Callen PW, et al. Thanatophoric dwarfism with the cloverleaf skull: a specific antenatal sonographic diagnosis. J Ultrasound Med. 1985 Mar;4:151-154.
[5] Sajid MI, Malik N, Balouch SS. Kleeblattschädel skull presenting in concert with Pfeiffer syndrome. Egypt J Neurosurg. 2019 Dec;34:41.
[6] Chen CP, Lin SP, Su YN, et al. A cloverleaf skull associated with Crouzon syndrome. Arch Dis Child Fetal Neonatal Ed. 2006 Mar; 91(2): F98.
[7] Weber B, Schwabegger AH, Vodopiutz J, et al. Prenatal diagnosis of apert syndrome with cloverleaf skull deformity using ultrasound, fetal magnetic resonance imaging and genetic analysis. Fetal Diagn Ther. 2010;27(1):51-6.
[8] Brahman S, Jenna R, Wittenauer HJ.  Sonographic in utero appearance of kleeblattschäudel syndrome. J Clin Ultrasound. 1979 Dec;7(6):481-4.
[9] Manjila S, Chim H, Eisele S et al.: History of the Kleeblattschädel deformity: origin of concepts and evolution of management in the past 50 years.  Neurosurg Focus. 2010 29 (6):E7
[10] Singh S, Tokhunts R, Baubet V, et al. Sonic Hedgehog Mutations Identified in Holoprosencephaly Patients Can Act in a Dominant Negative Manner. Hum Genet. 2009 Feb; 125(1): 95–103.
Discussion Board
Winners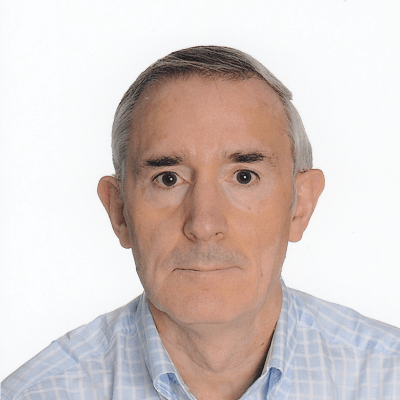 Javier Cortejoso Spain Physician
Add bookmark
Bookmarked