Moshe Bronshtein (1); Frantisek Grochal (2); Javier Cortejoso (3)
(1) Department Obstetrics Gynecology, Rambam Medical Center, Haifa, Israel; (2) Femicare, Center of prenatal ultrasonographic diagnostics, Kollarova 17/A, 036 01 Martin, Slovak Republic; (3) Centro Médico Recoletas. Valladolid. Spain
---
Posting Dates: May 1 - May 14, 2022
Case Report: Presented here are 4 different cases. What is the cardiac defect in common in all these cases?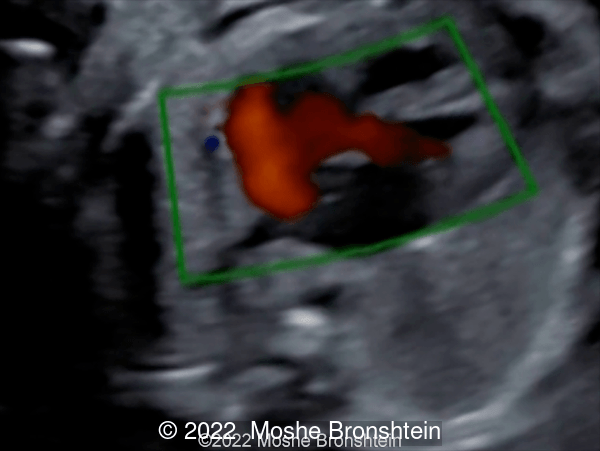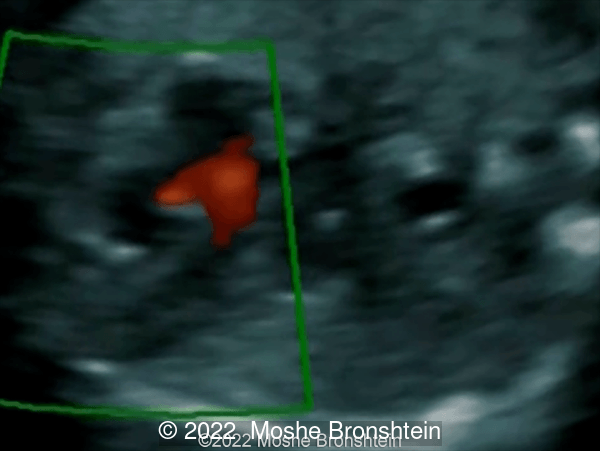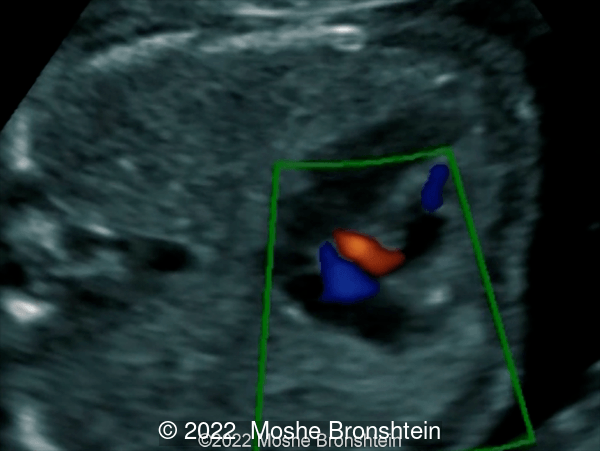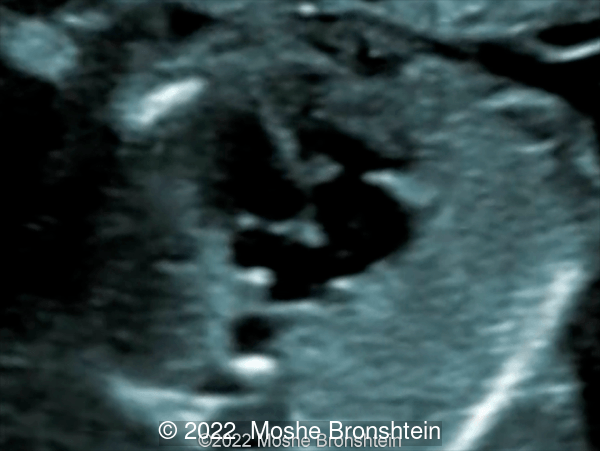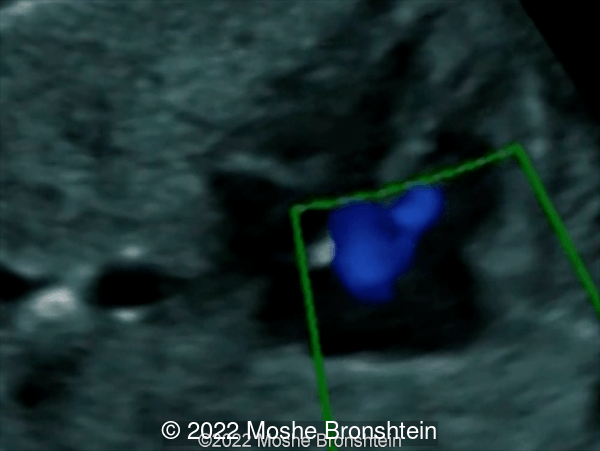 View the Answer Hide the Answer
Answer
We present 4 different cases of Gerbode defect: The 1st is isolated and noted at 25 weeks gestation, the 2nd is associated with tricuspid dysplasia and identified at 15 weeks gestation, the 3rd  is associated with ventricular septal defect and diagnosed at 15 weeks gestation, and finally the 4th case is associated with Ebstein's anomaly at 16 weeks of gestation.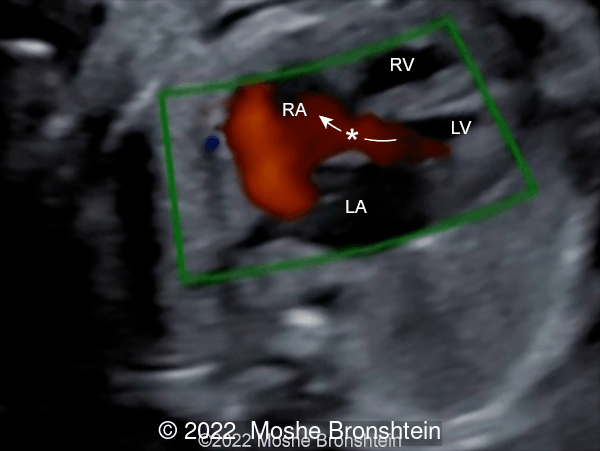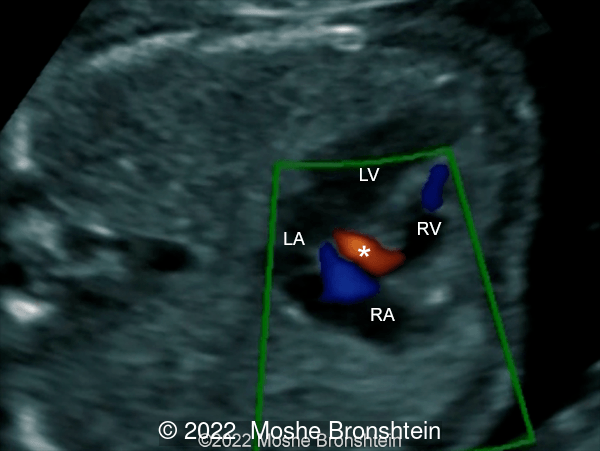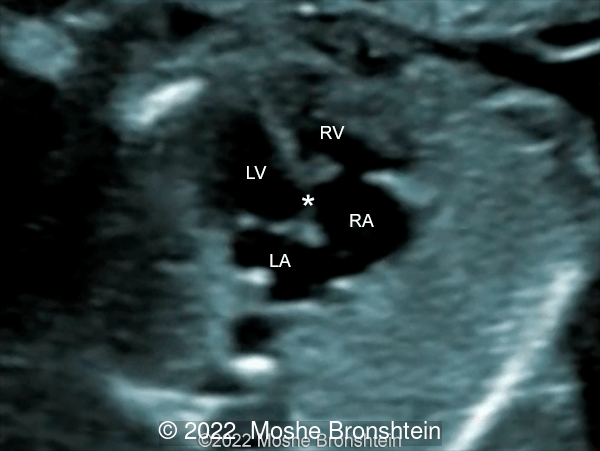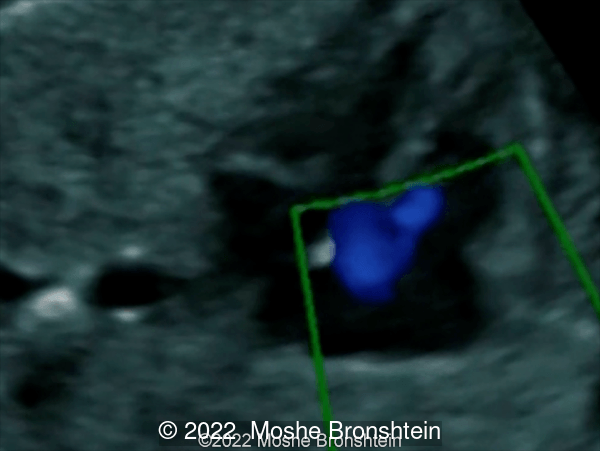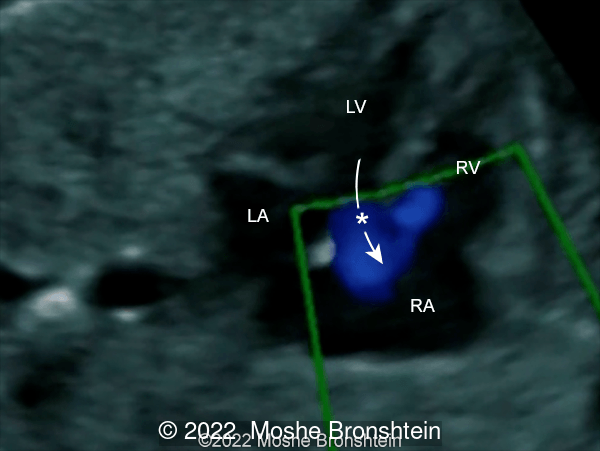 Discussion
The interventricular septum is a musculomembranous structure that separates the right ventricular chamber from the left ventricular chamber. It extends from the apex of the heart to unite with the atrial septum at the level of the atrioventricular valves (endocardial cushions). It is predominantly made up of a small thin membranous septum and a larger muscular septum. The muscular septal region can be subdivided into the inlet, the outlet, and the trabecular regions.
A ventricular septal defect (VSD) is defined as an opening or hole in the interventricular septum. Usually, it causes a communication between the right and the left ventricles, allowing blood to shunt between the two ventricles. Most ventricular septal defects occur in isolation, but up to 30% may accompany other structural cardiac abnormalities [1]. Isolated defects are the most commonly recognized cardiac defects, accounting for 25% to 30% of all cardiac defects in live-born infants and only 5% to 7% of prenatally diagnosed congenital heart diseases [2].
Although several classification systems for ventricular septal defects have been proposed [3], typically are reported based on their anatomic locations on the septum: perimembranous VSD (also called infracristal or conoventricular), inlet VSD (posterior or atrioventricular septum type), outlet VSD (supracristal, subpulmonic, subarterial or doubly committed), and muscular or trabecular VSD. In contrast to the findings of postnatal studies, muscular defects are more common than perimembranous ventricular septal defects in the fetus [4].
The membranous septum is a very small area divided by the septal leaflet of the tricuspid valve such that a portion contacts with the right atrium (since the tricuspid valve attaches to the membranous septum about 1 cm apical to the attachment of the mitral valve), while the other portion is interventricular and is in continuity with all other components of the ventricular septum.
Perimembranous defects include defects of the membranous septum alone, but most involve more than just the membranous septum, and are therefore termed perimembranous. Van Praagh [5] prefers the term paramembranous to perimembranous because these defects are beside the membranous septum and confluent with it, not surrounding the membranous septum on all sides.
A defect not included in any of the more usual classifications (classic anatomic nomenclature, nomenclature system advocated by Robert Anderson, and Van Praagh's nomenclature system) is the Gerbode defect. The International Paediatric and Congenital Cardiac Code (IPCCC) defines it as a deficiency of the atrioventricular component of the membranous septum permitting shunting of blood from the left ventricle to the right atrium [6]. It does not present any other components that may be commonly seen in association with spectrum of disorders associated with atrioventricular septal defects such as a common atrioventricular valve or interatrial or interventricular communications [6].
In cases where a deficiency of tricuspid valvar tissue permits ventriculo-atrial shunting subsequent to initial interventricular shunting (left ventricle to right ventricle to right atrium) could be considered a ventricular septal defect [6].
Although the first pathologic description of this defect was made by Thurnam in 1838 in an autopsy report [7] and the first surgical correction of the same was performed by Kirby at the Hospital of the University of Pennsylvania in 1957 [8], it was not fully characterized until the publication of Gerbode et al in 1958 [9]. In their description of five patients, four had a perimembranous ventricular septal defect with an associated deficiency of the septal leaflet of the tricuspid valve and the fifth patient exhibited a congenital deficiency of the atrioventricular component of the membranous septum (the true Gerbode defect). The congenital form of this very rare communication anomaly accounts for less than 1% of all congenital heart disease [10].
Gerbode et al already described initially two types of communication between the left ventricle and the right atrium [9]. This defect has been classified in different ways over time [11]. Riemenschneider and Moss classified the defects into two types: direct (or true, through the membranous septum) and indirect (or false, via a perimembranous ventricular septal defect with a defect in the tricuspid valve) [12]. Silbiger et al modified the terminology of these two types of defects to describe the position of the same in relation to the tricuspid valve [13]. Approximately one third of such defects occur in the atrioventricular septum and are known as supravalvular defects and the remaining two thirds occur between the ventricles and are known as infravalvular defects. Sakakibara and Konno further elaborated the classification to add to supravalvular (Type I) and infravalvular (Type II) types a third type that is the combination of both defects (valvular type, Type III) [14]. These are demonstrated in the following drawings.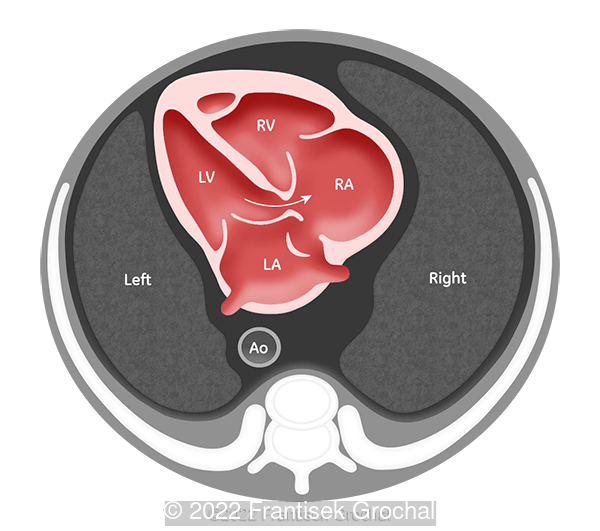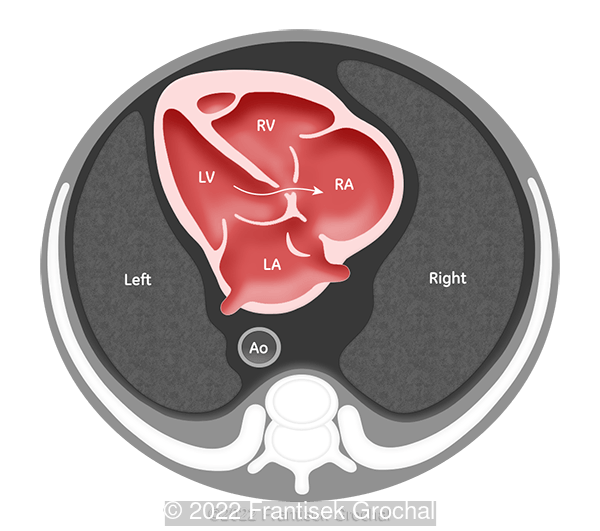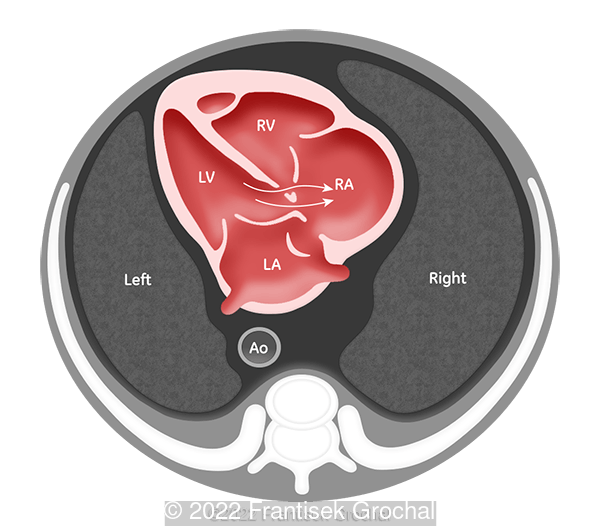 In recent years the acquired left ventricle-right atrium shunts are much more common than congenital because they have more predisposing risk factors, such as infective endocarditis, trauma, cardiac surgical procedures, and myocardial infarction [15]. Because of this, the current incidences of the three types (I to III) are 76%, 16% and 8%, respectively [16]. The most common congenital forms are infravalvular defects, which may have different tricuspid valve abnormalities, including clefts or perforations of the septal leaflet, deformity or adherence of valve tissue to the margins of the septal defect and widening of the anteroseptal commissure [17].
The left ventricular-to-right atrial shunt is of high velocity due to the large pressure gradient that exists between these cardiac chambers. Unlike other ventricular septal defects, Gerbode defect results in a special hemodynamic situation, since this communication can cause volume overload in the right atrium and, subsequently, in the right ventricle. The absence of tricuspid regurgitation distinguishes the true defect from the indirect forms. There is only one published case of Gerbode defect diagnosed prenatally [18], a septal defect between the left ventricle and the atrialized portion of the right ventricle in a fetus with Ebstein anomaly. Small defects can be managed conservatively, but most authors advise surgical repair by patch closure through the right atrium.
References
[1] Abuhamad A and Chaoui R. Atrial, Ventricular, and Atrioventricular Septal Defects. In: A Practical Guide to Fetal Echocardiography. Normal and Abnormal Hearts, 3rd ed. Wolters Kluwer, Philadelphia, PA, 2016, pp 253-280.
[2] Gómez O and Martínez JM. Ventricular Septal Defect. In: Copel JA, D'Alton ME, Feltovich H, et al, eds. Obstetric Imaging Fetal Diagnosis and Care, 2nd ed. Elsevier, Philadelphia, PA, 2012, pp 356-360.e1.
[3] Jacobs JP, Burke RP, Quintessenza JA, Mavroudis C. Congenital Heart Surgery Nomenclature and Database Project: ventricular septal defect. Ann Thorac Surg. 2000 Apr;69(4 Suppl):S25-35. doi: 10.1016/s0003-4975(99)01270-9. PMID: 10798413.
[4] Gómez O, Martínez JM, Olivella A, Bennasar M, Crispi F, Masoller N, Bartrons J, Puerto B, Gratacós E. Isolated ventricular septal defects in the era of advanced fetal echocardiography: risk of chromosomal anomalies and spontaneous closure rate from diagnosis to age of 1 year. Ultrasound Obstet Gynecol. 2014 Jan;43(1):65-71. doi: 10.1002/uog.12527. Epub 2013 Dec 5. PMID: 23733584.
[5] Van Praagh R, Geva T, Kreutzer J. Ventricular septal defects: how shall we describe, name and classify them? J Am Coll Cardiol. 1989 Nov 1;14(5):1298-9. doi: 10.1016/0735-1097(89)90431-2. PMID: 2808986.
[6] Franklin RCG, Béland MJ, Colan SD, Walters HL, Aiello VD, Anderson RH, Bailliard F, Boris JR, Cohen MS, Gaynor JW, Guleserian KJ, Houyel L, Jacobs ML, Juraszek AL, Krogmann ON, Kurosawa H, Lopez L, Maruszewski BJ, St Louis JD, Seslar SP, Srivastava S, Stellin G, Tchervenkov CI, Weinberg PM, Jacobs JP. Nomenclature for congenital and paediatric cardiac disease: the International Paediatric and Congenital Cardiac Code (IPCCC) and the Eleventh Iteration of the International Classification of Diseases (ICD-11). Cardiol Young. 2017 Dec;27(10):1872-1938. doi: 10.1017/S1047951117002244. PMID: 29286277.
[7] Thurnam J. On aneurisms of the heart with cases. Med Chir Trans 1838;21:187.
[8] Kirby CK, Johnson J, Zinsser HF. Successful closure of a left ventricular-right atrial shunt. Ann Surg. 1957 Mar;145(3):392-4. doi: 10.1097/00000658-195703000-00014. PMID: 13403590; PMCID: PMC1465479.
[9] Gerbode F, Hultgren H, Melrose D, Osborn J. Syndrome of left ventricular-right atrial shunt; successful surgical repair of defect in five cases, with observation of bradycardia on closure. Ann Surg. 1958 Sep;148(3):433-46. doi: 10.1097/00000658-195809000-00012. PMID: 13571920; PMCID: PMC1450812.
[10] Wasserman SM, Fann JI, Atwood JE, Burdon TA, Fadel BM. Acquired left ventricular-right atrial communication: Gerbode-type defect. Echocardiography. 2002 Jan;19(1):67-72. doi: 10.1046/j.1540-8175.2002.00067.x. PMID: 11884258.
[11] Saker E, Bahri GN, Montalbano MJ, Johal J, Graham RA, Tardieu GG, Loukas M, Tubbs RS. Gerbode defect: A comprehensive review of its history, anatomy, embryology, pathophysiology, diagnosis, and treatment. J Saudi Heart Assoc. 2017 Oct;29(4):283-292. doi: 10.1016/j.jsha.2017.01.006. Epub 2017 Feb 16. PMID: 28983172; PMCID: PMC5623025.
[12] Riemenschneider TA, Moss AJ. Left ventricular-right atrial communication. Am J Cardiol. 1967 May;19(5):710-8. doi: 10.1016/0002-9149(67)90476-6. PMID: 6023467.
[13] Silbiger JJ, Kamran M, Handwerker S, Kumar N, Marcali M. The Gerbode defect: left ventricular to right atrial communication-anatomic, hemodynamic, and echocardiographic features. Echocardiography. 2009 Sep;26(8):993-8. doi: 10.1111/j.1540-8175.2009.01009.x. PMID: 19968690.
[14] Sakakibara S, Konno S. Left ventricular-right atrial communication. Ann Surg. 1963 Jul;158(1):93-9. doi: 10.1097/00000658-196307000-00018. PMID: 14042644; PMCID: PMC1408381.
[15] Yuan SM. A Systematic Review of Acquired Left Ventricle to Right Atrium Shunts (Gerbode Defects). Hellenic J Cardiol. 2015 Sep-Oct;56(5):357-72. PMID: 26429364.
[16] Sinisalo JP, Sreeram N, Jokinen E, Qureshi SA. Acquired left ventricular-right atrium shunts. Eur J Cardiothorac Surg. 2011 Apr;39(4):500-6. doi: 10.1016/j.ejcts.2010.04.027. Epub 2010 Jun 2. PMID: 20627757.
[17] Burrows PE, Fellows KE, Keane JF. Cineangiography of the perimembranous ventricular septal defect with left ventricular-right atrial shunt. J Am Coll Cardiol. 1983 Apr;1(4):1129-34. doi: 10.1016/s0735-1097(83)80116-8. PMID: 6833652.
[18] Mehdi M, Bhatia S, Patel M, Aly A. Ebstein's Anomaly, Left Ventricular Noncompaction and Gerbode-Like Defect Triad (Fetal Diagnosis and Neonatal Course). Case Rep Pediatr. 2021 Nov 11;2021:9969588. doi: 10.1155/2021/9969588. PMID: 34804625; PMCID: PMC8601841.
Discussion Board
Winners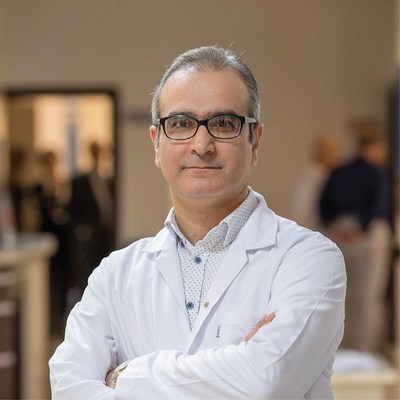 Fatih ULUC Turkey Physician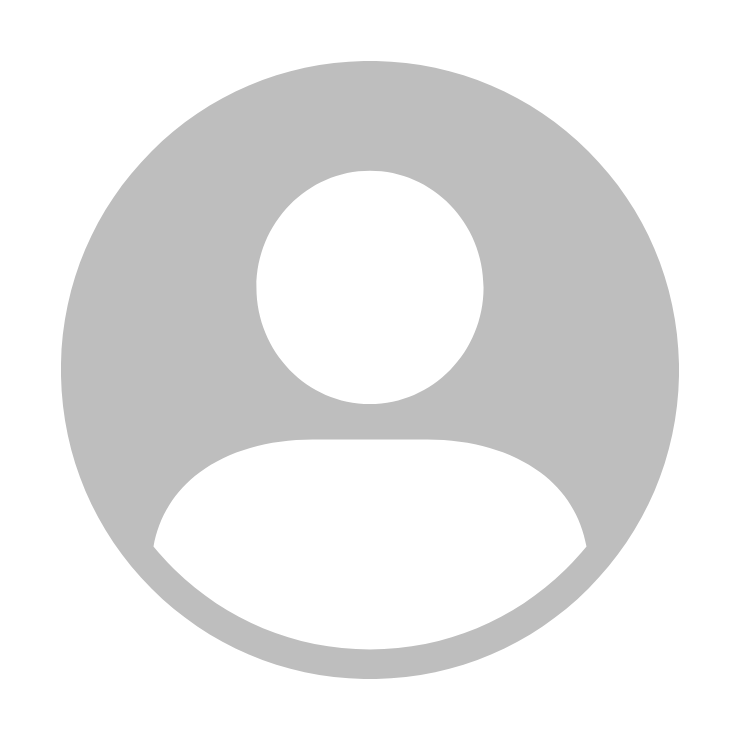 Umber Agarwal United Kingdom Physician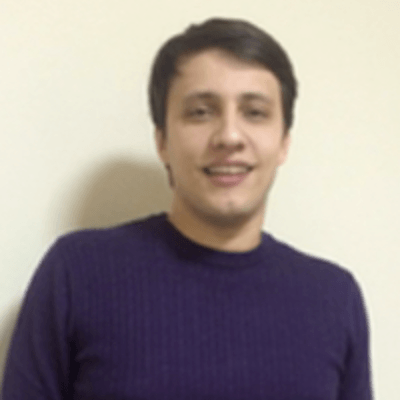 Dmitry Abelov Russian Federation Physician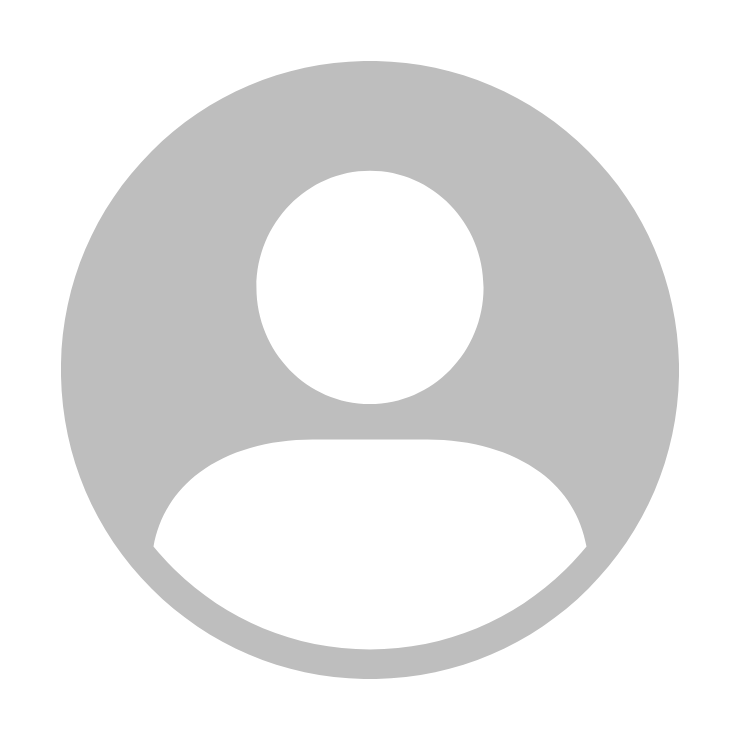 filiz halici öztürk Turkey Physician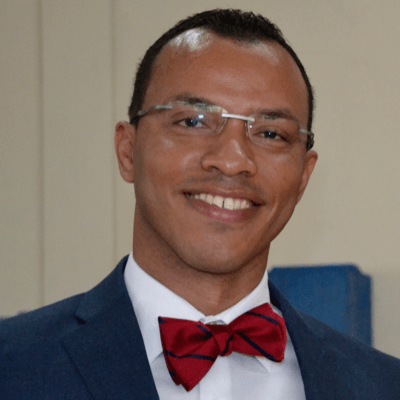 Vladimir Lemaire United States Physician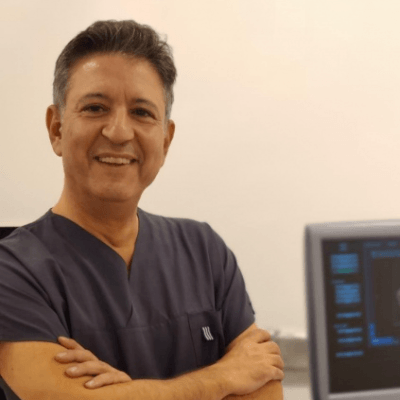 Halil Mesut Turkey Physician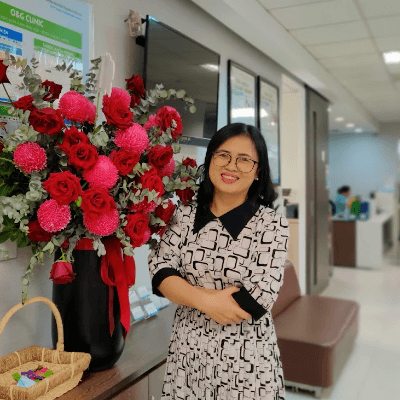 lan nguyen xuan Viet Nam Physician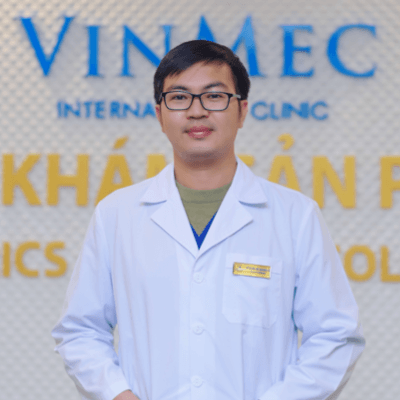 Ta Son Vo Viet Nam Physician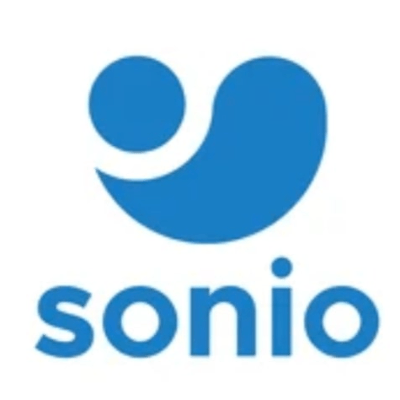 Sonio Sonio France AI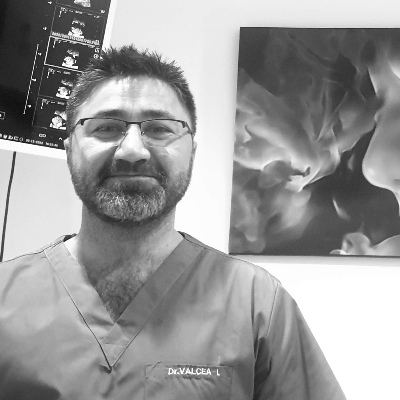 Ionut Valcea Romania Physician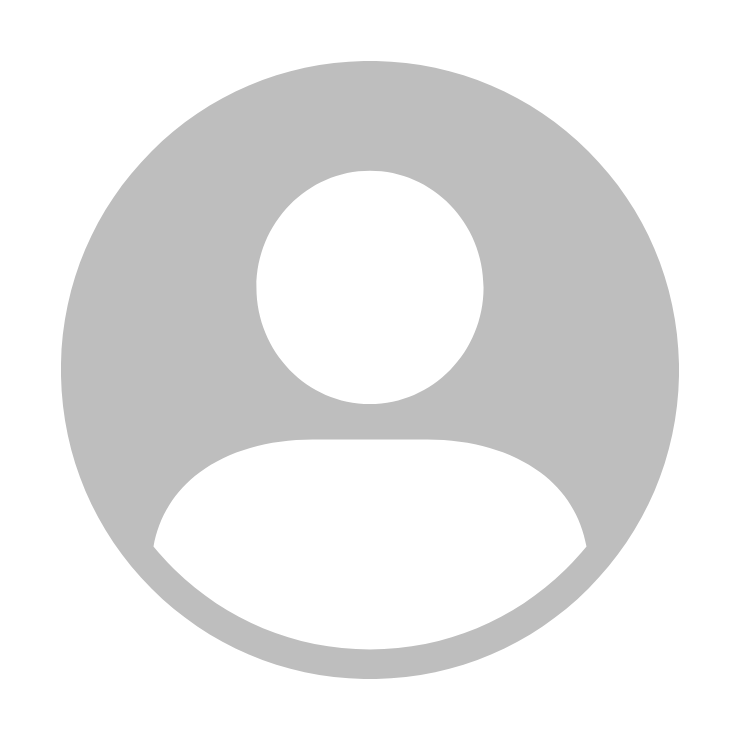 Vu Hung Viet Nam Physician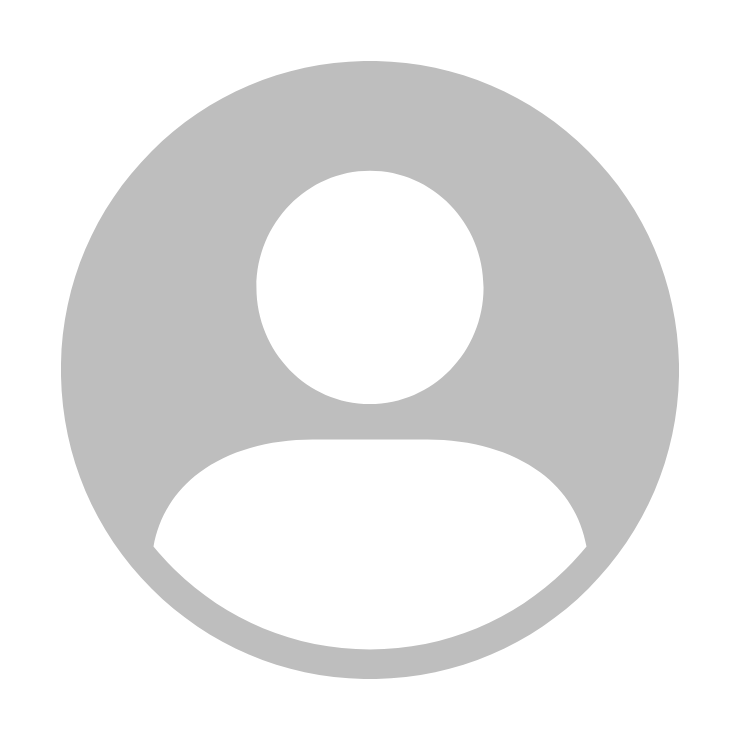 Vera Aladinskaya United States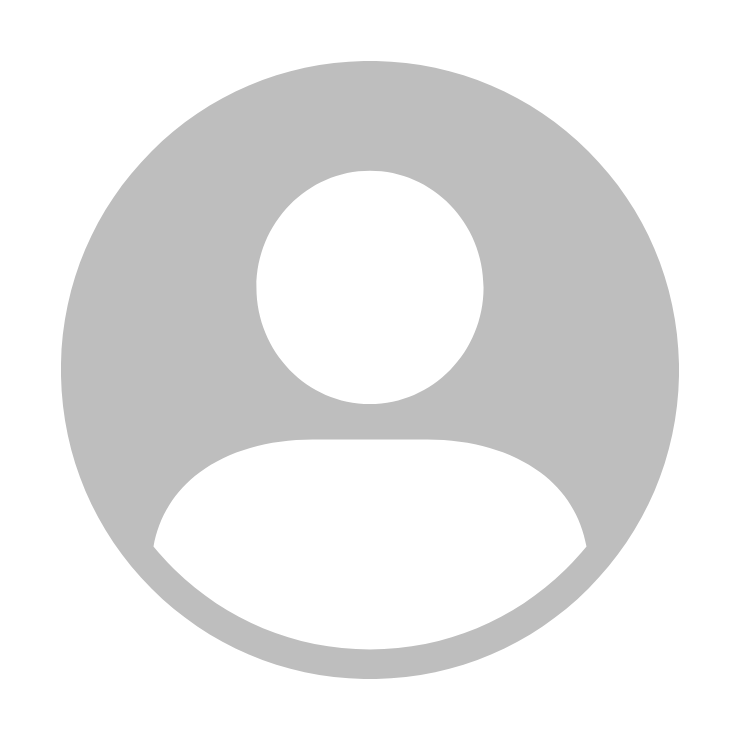 Halil Korkut Dağlar United States Physician
Add bookmark
Bookmarked